Spring is the most traditional time to do a cleanse and clear out that sluggish, heavy, cold-weather build-up in your system. But doing a cleanse does not mean you have to starve, drink nasty concoctions or go to the bathroom 10 times a day! By simply using whole foods and doTERRA's Cleanse and Restore Kit you can:
1. Have more energy for everyday life
2. Reduce cravings - for junky processed foods that are dragging you down and sabotaging your health
3. Gain clearer thinking and better focus
4. Improve your digestion - less heartburn, gas, bloating and constipation
5. Glowing and clearer skin
6. Most important, prevent future health problems and taking control of your health!
While doing a wholefood cleanse you are not starving yourself but instead feeding your body real food and getting a lot more nutrients than you are used to, feeling amazing. You will be rebuilding your adrenals and boosting your metabolism. My ultimate wish and hope is that you will carry this into your life after the cleanse and realize how really satisfying and simple it is to be healthy.
Things included
Cleanse Guide: a step-by-step guide showing you exactly how to cleanse your body using whole foods in a safe and natural way.

Wholefood Recipes all Gluten, Dairy and Soy free: recipes that focus on improving digestion, decreasing inflammation, and keeping you satisfied and feeling good.

Suggested Meals: a guide so you will not feel deprived, hungry, or confused about what to eat or when to eat.

Cleanse Restore Kit: All the supplements and cleansing products you need for the whole cleanse and to continue repairing and building your body after the cleanse.

Learn about what Real/Whole Foods mean, Organic vs Non Organic, GMO's, what to avoid in your diet, food combining , and how to makeover your kitchen.

Learn how eating wholefoods will save you money in the long run in more than one way.

Private Facebook Group: the group will be for support and ideas, pictures, and hoorays! We will check in daily to post and answer questions.

Recorded Kick-off Call: The call will be recorded so you can start the cleanse on the day that is most convenient for you and will still receive all the support.

Lifetime Access: you will be able to join our private FB group and support of our doTERRA team! You can continue to support each other on your wellness journey and have continued access to our circle of wise women in a relaxed, nurturing, sacred space.
This Cleanse Package is a $350 value that Jaime charge her clients and we are offering it for free with just the cost of the Cleanse and Restore Kit $150! Join us in increasing our awareness of what we put in our bodies and changing the way we eat and live. Your body, mind and soul will love you for it!
Cleanse and Restore Kit
The recommended kit for the cleanse is the Cleanse and Restore Kit, and Terrazyme (digestive enzymes) is optional, but is an amazing addition since most people are not digesting and assimilating the foods and nutrients they are taking in, digestive enzymes do wonders and I never go without them.
The Cleanse & Restore Kit
includes:
• Lifelong Vitality Pack
• GX Assist®
• PB Assist+®
• Lemon Essential Oil (15 mL)
• Wholesale Membership free (normally $35)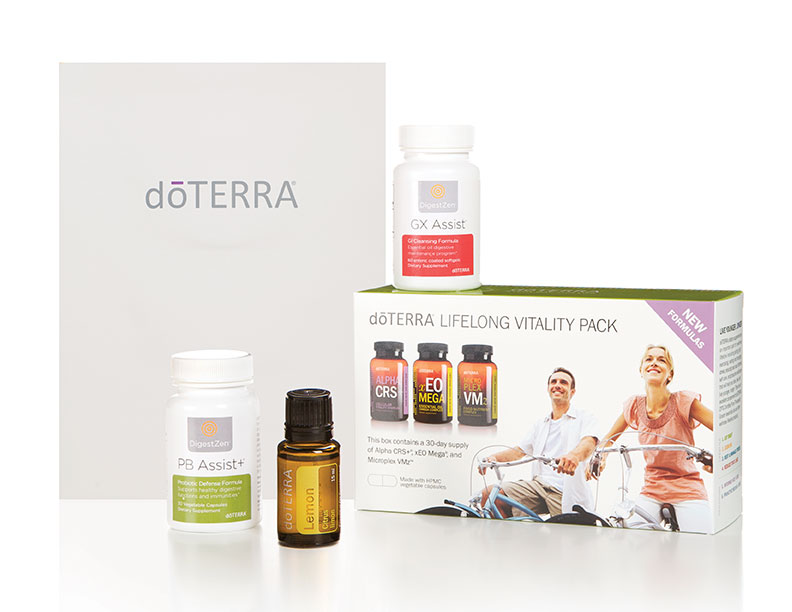 TerraZyme
dōTERRA TerraZyme® Digestive Enzyme Complex is a proprietary blend of active wholefood enzymes and supporting mineral cofactors that are often deficient in cooked, processed, and preservative-laden foods.

TerraZyme's powerful combination of digestive enzymes support the body's constant production of enzymes critical for healthy biochemical functions including healthy digestion of food nutrients and cellular metabolism of nutrients to energy. TerraZyme includes a variety of whole-food enzymes that help with digestion of proteins, fats, complex carbohydrates, sugars and fiber.
If you have any questions, email Janice at spirityoga@live.com. To sign up for a new wholesale account, click here.